Main content starts here, tab to start navigating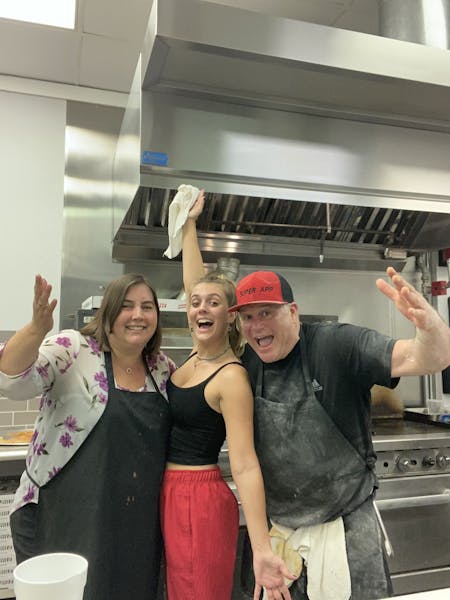 TEAM
Our Story:
It all happened 29 years ago when my wife and I met in a local pizzeria while in high school. I was making pizzas, and Jennifer served our guests and even jumped behind the line when needed. We went off to college. Jen became a Zoologist and became a Marketer. Our passion for fantastic pizza never stropped; we even made it at home to ensure we always had the best possible ingredients because every bite is just as important as the last one.
In 2002, we had our daughter Makenzie "Piper" Hershey, and that is when Pipers Pizzeria's concept was born. No matter what job I had or where I traveled, pizza was always on my mind. Although not ready for the mass market at that time, we continued making homemade pizzas for ourselves, family, and friends. Everyone always wanted our "pizza," which is when the wheels started to spin and little faster. We love to mix it up by coming up with some funky toppings from time to time, so be on the lookout for some pizzas that will make you scratch your head but will blow your mind.
Fast forward to 2020. Jen and I looked at each other while still chasing the corporate dream as a chief marketing officer for some of the largest brands globally and helping my company grow and said, hey, if you can do this for all these other brands, why not do it for our own brand. So, we started to explore our options and decided to officially launch Pipers Pizzeria to share our passion for quality pizza with the world.
We are looking forward to our journey with our customers as we expand into new markets.
About us:
Pipers Pizzeria is a rapidly growing scratch pizzeria that started in Palm Harbor, Florida in 2020. Our brand is all about making our customers happy by serving only the finest ingredients. Simply by making our dough, sauce, dressings, meatballs, and chicken parm daily is all topped with the best Grande cheeses and Boars Heads meats on the open market today. We are not just a pizza kitchen; we are a scratch pizza kitchen concept that lives by our core values – serving our customers one bite at a time.
Our fantastic team works every day to ensure our pizzas, salads, and sandwiches are the very best quality while driving our customer's taste bud's crazy in every single bite. If you're not happy, we are not – we will make it right every single time.
We remind ourselves each day that we are fortunate to do what we do. We are a family that champions our Passion for Quality Food. Customers are the #1 priority, and We Love What We Do!
Our goal as an organization is to provide our customers with the best possible experience in our pizzeria. We are operated by passionate and inspired leaders, committed to creating an environment where customers are truly valued, quality is a priority, and having lots of fun in the process.
Our Leadership team:
Jennifer Hershey – CEO
Piper Hershey - CCO
Bruce Hershey – CMO/CPM